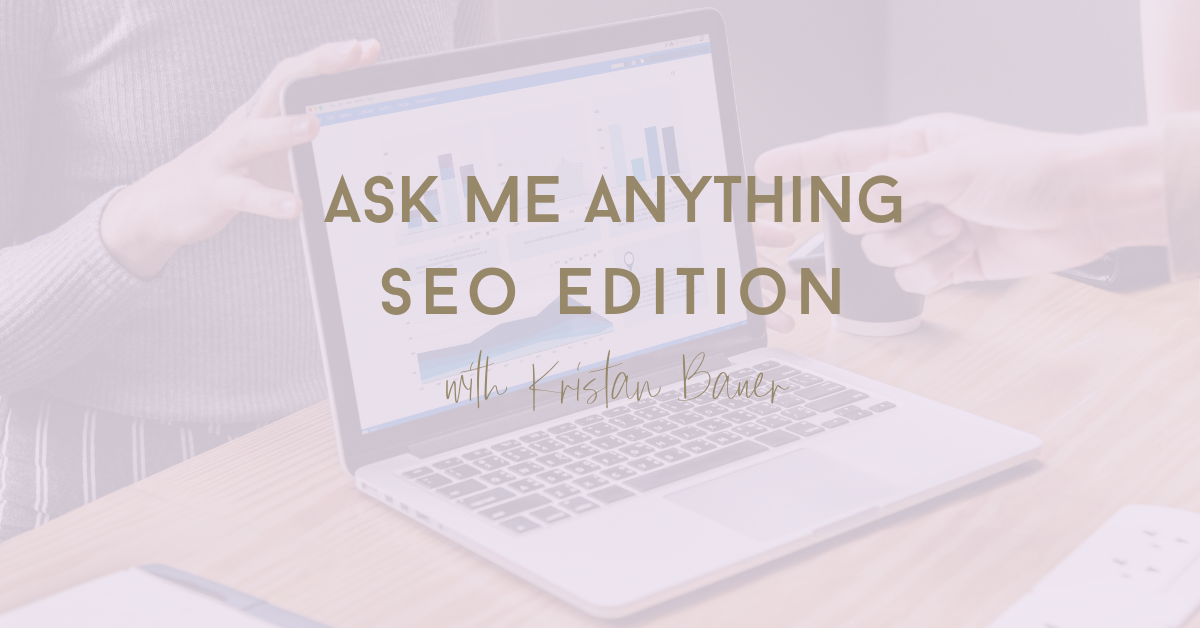 Where should you start with SEO? How can you increase your website traffic? What changes do you see in the future of SEO?
These are great questions that I am often asked about. To answer these (and plenty more great questions on SEO strategy and owning a consulting business), I hosted an "ask me anything" over at AMAFeed.com. Here are some of my favorite questions and answers from my hosting experience.
Don't see your question covered? Email me or leave a comment below!
Ask me anything: SEO Q&A
Question: What do you feel are going to be most important factors in SEO going forward and why?
Good question! While SEO has changed quite a bit over the years, I think fundamentally the core of SEO remains – mainly, how to surface relevant content to users. In order to do so, search engines have become smarter with user experience and intent, which I think will be even more important factors in the future.
This includes having a great user experience and really fulfilling the search query intent. Having a fast, responsive site to adapt to mobile-culture and capture user attention. I also think technology and development advancements will change how we set up basic website structure (for example, client-side applications) and SERP features (such as advancements in structured data).
Question: What are the most important local search sites that a business should get listed on today?
Good question, this is so important for local business owners!
In my opinion, the some of the most important local listing sites include Google My Business, Yelp, Bing Places and social channels, primarily Facebook. There are a handful of local business directories such as Yellow Pages, Manta, and FourSquare that can be helpful.
Otherwise, looking at your specific business niche (for example, if you're a law firm, getting listed on Avvo is helpful) or specific city (for example, getting registered at the local chamber of commerce) can provide new local listing opportunities.
Question: What advice would you give to your 20 year old self just starting out in SEO and digital marketing?
That's a fun question! I would say to get as much digital marketing experience as you can at an agency for the first few years. Agencies can help accelerate the learning curve and expose you to different channels of digital marketing, all while staying on the latest of industry advancements. From there, I'd try to move to an in-house marketing team since in-house teams typically pay more and once you're in-house, it's usually easier to get more jobs on in-house marketing teams (based on my experience).
Another big question is staying as a generalist in digital marketing or advancing into a specific niche, such as SEO. I've found more success by becoming an expert in an individual niche (e.g. SEO) but that's closed me off from other general digital marketing positions in-house. It's something to consider and decide what you enjoy most because there are pros and cons to either approach.
Question: How different is SEO strategies for businesses vs personal brands? Do you provide SEO consultant services for both niches?
Good question! Overall, there are many SEO fundamentals that apply to both businesses and personal brands. I think the main difference in SEO across both is based on scale and complexity. For instance, having an effective internal linking structure is important for both businesses and personal brands, there just may be a difference in tactics – larger websites may need more internal linking networks in place to ensure all pages are discoverable whereas personal brands may need to really maximize their navigational linking and contextual linking to a more specific set of pages.
Another example is with off-site SEO – external links are important for any website but personal brands may need to prioritize backlink development more since they will likely need to compete in search results with potentially larger businesses. While important for any business, SEO basics, such as optimizing meta tags, maximizing internal linking and regular content creation, can make a big difference for personal brands with a specific set of pages.
I offer a range of consulting services for both businesses and personal brands, it just depends on the level of investment and type of SEO support that's needed. For instance, most of my retainer clients are larger startups with VC funding but I also offer SEO coaching and training to personal brands where they need to maximize their investment but still get expert SEO advice.
Question: How do I get more traffic to my website?
Working on proactive SEO for your site! Getting "more traffic" can be a combination of different SEO efforts, including on-site SEO, off-site SEO and content development.
If you want to just "get more organic search traffic" then working on SEO best practices for your site in combination with targeted content development can be effective.
Building your off-site SEO signals, such as backlinks, can be helpful for long-term traffic growth. I'd suggest starting here for more SEO resources to grow traffic.
Question: I could ask so much, but, what's the number one thing you recommend for someone who is learning how to build a website / SEO / everything else that comes with it? and what's the best way to grow your email list? Thanks in advance!
Such good question! There are so many different things I'd recommend for both… let me try to narrow it down!
One of the most important things I think any new website owner (or for someone building a website) should understand is your target searcher behavior. This includes keyword research and what your ideal audience would be searching for.
Once you understand searcher behavior, you can better understand things like:
What kind of content to provide (what pages you should have on your website)
How to layout your site (your site architecture)
What terms to include in page optimization (such as URLs, title tags, meta descriptions, headings, etc.)
I would also try not to overcomplicate your SEO strategy when building a new website. Focus on what's important for your user and basic SEO tagging (such as the items above in the third bullet) to lay the foundation.
URLs are more permanent (even though they can change, you typically want as few URL turnovers as possible), so I'd make sure the URL strategy is dialed for a new site.
Once you launch a new site, link building will likely be important and improving off-site SEO signals.
For growing your email list, there are so many great tactics out there that can vary for any specific niche. With my own business, I've found that the trick is (a) having great lead gen magnets (such as an ebook or downloadable) and (b) getting it in front of your ideal users.
Getting it in front of your ideal users could be through a combination of a few different channels, including onsite opt-in forms as well as social media marketing, publicity and social advertising (I still think Facebook advertising works great here).
Hope that helps!
Question: Is it possible to optimize your content for better search results in online platforms such as Medium?
Yes, you can optimize content on third-party platforms for SEO. This means that content will rank (on Medium, for example) versus any content on your own site.
I think having the same SEO principles and best practices in mind for content on Medium apply as they would on your own site.
You just can't impact other advanced SEO features, such as navigation and XML Sitemaps, etc., on those sites. So, you'll need to rely more heavily on the topic of your article and SEO best practices in the headlines, title, description, images, etc.
Click here to read all the questions at AMAfeed.com.