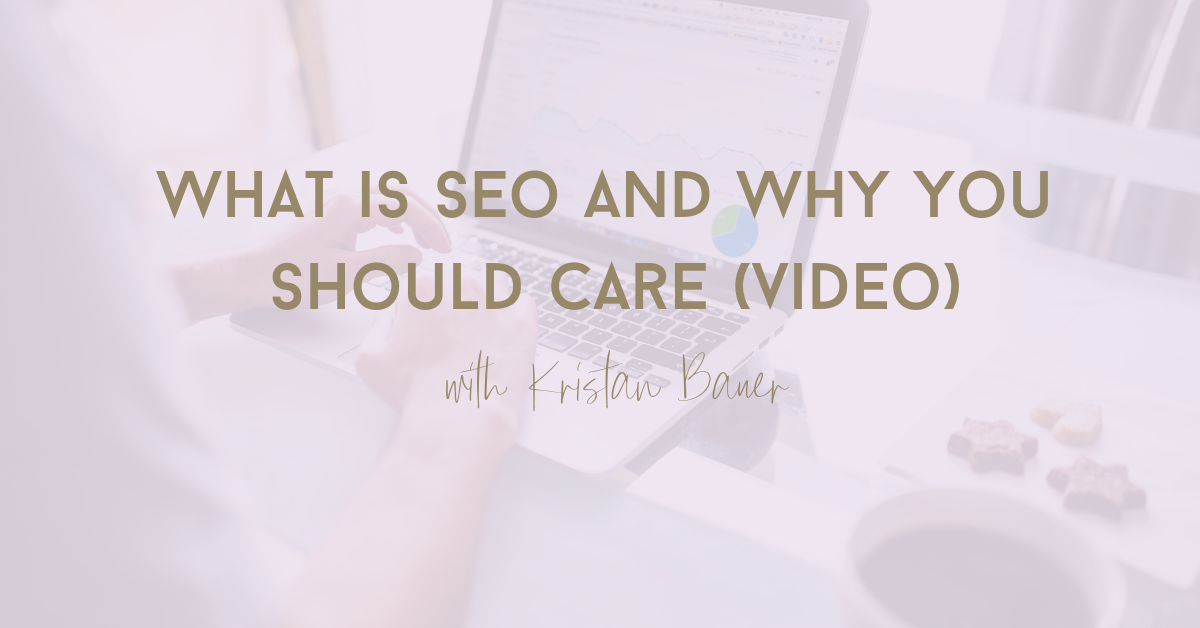 WHAT IS SEO AND WHY WEBSITE OWNERS SHOULD CARE (VIDEO)
In today's video, let's learn about what search engine optimization (SEO) is, why you should care (as a website owner) and how it works. We'll cover the basics of search and how search engines work.
If you'd prefer to read along, the transcript is listed below for reference. Enjoy!
Video Transcript
Hi, everyone. It's Kristan. What is SEO? Let's talk about SEO basics such as the definitions of SEO, why it's important, and how it works.
What is SEO? Search engine optimization, or SEO, is essentially the act of driving traffic to your website via organic search results. Typically, in a search engine result page, or a SERP, there are paid results and unpaid results. Paid results are typically what you see at the top of the SERP. They're advertisements from other brands. Unpaid results or organic results or what you typically see below those advertisements. That's where we want to be present as a website owner and what SEO drives to impact.
Historically, SEO was the practice of webmasters relying solely on links and keyword usage. Nowadays, modern SEO is much more multifaceted. Links and keywords are still very important, but other marketing disciplines such as content development, brand awareness, public relations, are very important for solid SEO practice.
SEO can be the largest traffic-driving channel to your website. Not always, but it's a very common to see organic search as one of the largest traffic-driving channels. Over 92% of internet users use search engines to discover new websites. There are over 6.5 billion searches a day, so as a website owner you definitely want to be visible in that space.
SEO drives traffic via unpaid results, so it's not to say that you're not investing in SEO efforts, but the clicks and the traffic that you receive from search engines are unpaid. Search engines like Google and Bing will use their spiders to crawl websites, mainly through links, links from external websites, internal links to and from your own websites. Google, for instance, will crawl these links to discover new pages and new websites. Search engines then put these pages and websites into their index. When a user goes to a search engine and enters a query, search engines will draw from their index to serve what they think are the most relevant results for that user's query.
Google, for instance, has over 200 ranking factors, over 200. So that's a lot to keep track of. These ranking factors include anything from your domain history, domain signals, page relevance, to site speed, content relevance, and user engagement. There's a lot to keep track of, but it also keeps things interesting.
Ultimately, the backbone of any good SEO strategy is creating great content and making it discoverable for search engines and users. Now that you know about SEO basics such as what it is and how it works, if you want to learn more exclusive SEO tips and tricks, sign up for my mailing list and I will be in touch. Thanks for listening.