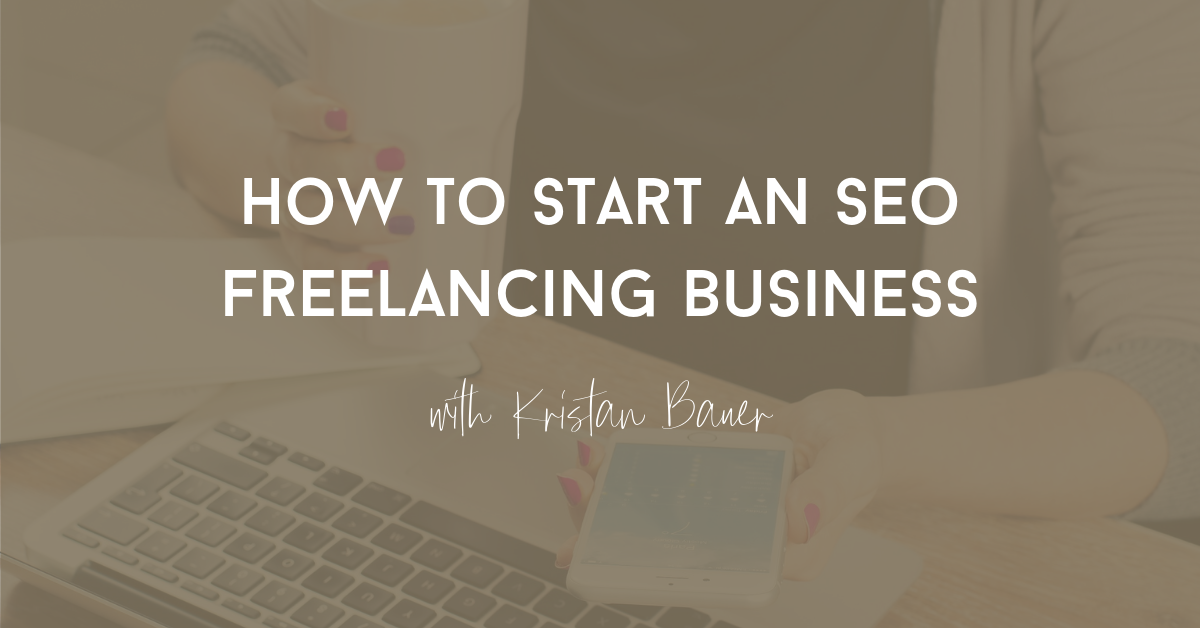 Getting your brand and business set up is the first step to making it real. Use this step-by-step guide to get your SEO freelance business set up and ready to bring in clients.
So you think you're ready to ditch your 9-to-5 gig, trade your work clothes for sweatpants, and become your own boss? There's a lot about freelancing that is attractive, but starting an SEO consulting business doesn't happen overnight.

Before you go full-time SEO freelance, you'll want to start saving and make sure you have a financial buffer in case things go wrong, especially in the beginning. Having savings for three to six months of expenses is a good rule of thumb when starting a full-time freelance business.

You'll also need to get your business set up. Starting a freelance business involves making decisions about how you want to brand your business, how you want to classify your business (sole proprietor or single-member LLC), and how you want to set up your banking.

Here's a quick overview of steps to take when setting up your SEO freelance business setup:

Decide on a business name (either be your own name or a brand)
Register your freelance business with the state
Get a federal EIN (depending on your legal entity)
Set up business bank accounts
Get a website up with basic information
Get your SEO software, tools, and email set up
Get SEO freelance clients
For a step-by-step guide to building a brand, establishing your business, and getting started as a freelancer, read on.

1. Decide on a Name
Developing a personal brand is essential when you're building a business around your area of expertise. A compelling personal brand can distinguish you from the competition, help you attract your target audience, and create lasting impressions with clients.

The first step in setting up your brand is deciding on a name for your business. Some freelancers choose to use their personal name; others create a business name. Using your personal name might make sense if you already have name recognition. If you aren't yet well-known as an SEO expert yet, then creating a business name can help you look well-established and professional. It can also offer more flexibility if you want to add to your list of services or hire employees down the road.

Changing a business name can be costly, so take the time to consider your choices.

2. Build Your Brand
Building your personal brand includes reserving your .com domain — best practice is to match your website domain and social media handles to the name of your business — securing your branded email, creating a memorable logo, ordering business cards, and getting professional headshots. Incorporate your branding on proposals, invoices, contracts, and any other materials you might share with clients.

Canva is an easy-to-use website that has free logo and business card tools. Sites like Vistaprint and Moo help you easily create print materials, too.

3. Create an Online Presence
Now you're ready to create your website that markets your skills and services. Platforms like Squarespace, WordPress, and Wix make it easy to create and design a professional-looking site.

Include your headshot and bio, the services your offer, work samples and testimonials, and contact information. Use your SEO expertise to work keywords into the text on your website, page headings and subheadings, as well as your image alt descriptions.

You social media accounts should also reflect your personal branding.

4. Decide on a Legal Structure
As a business owner, you'll need to decide on the financial and legal structure of your business. Many one-person businesses remain sole proprietors; others register their businesses as a limited liability company (you can opt to do a single-member LLC) or an S-corp. Upwork offers a more in-depth look at five types of business entities and their pros and cons.

5. Register Your SEO Business
If you are using your own legal name for your business, registering a business name is not required. However, if you created a business name, then you'll need register that trade name or "doing business as" (DBA) name and file certain documents (articles of incorporation) with your state.

If you have employees, any business partnerships, are a corporation or other organization, you'll need to apply for an Employer Identification Number (EIN). Sole proprietors, on the other hand, can simply use their Social Security Number to administer business finances.

You'll also need to request quarterly estimated tax vouchers from the IRS and your state revenue office.
For more detailed information about the steps involved in registering your business, take a look at U.S. Small Business Administration resources.

6. Get a Business Banking Account
Opening a separate bank account SEO freelancing business allows you to keep your business funds separate from your personal funds, helps you stay legally compliant and protected, and legitimizes your business with clients.

Now that you're ready to accept payments, it's time to get your invoicing and bookkeeping software set up. Wave, Quickbooks, and Freshbooks are commonly used among freelancers to build invoices and process payment. You might also consider hiring an accountant who specializes in self-employment taxes.

Now you're ready to start spreading the word that you're SEO freelancing!
Stay tuned for more information on the final step in starting an SEO freelance business – getting clients!

For more tips about starting a profitable SEO consulting practice, download my SEO Freelance Cheat Sheet.