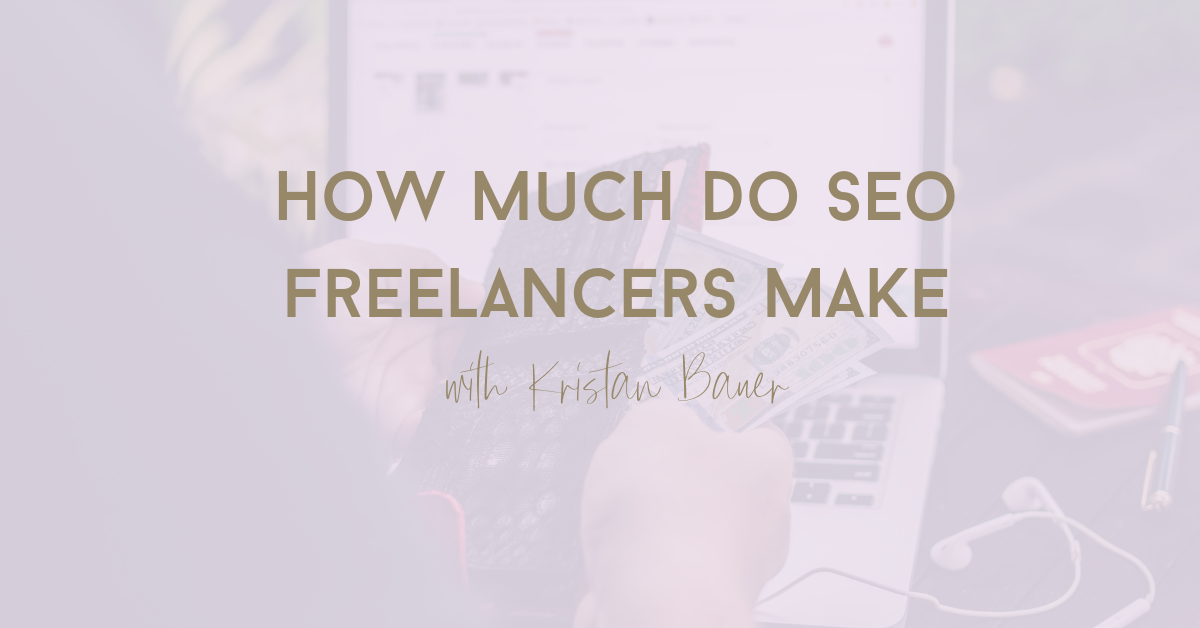 Here's a look at a few strategies for how SEO freelancers set their rates and how much they make.
If you are considering leaving your 9 to 5, the biggest questions you're probably asking yourself is if you can make a living with full-time SEO freelancing. To ease some of your worries, I suggest having savings for three to six months of expenses and getting some initial contracts in place before starting a full-time freelance business.

Then start by freelancing a couple of hours over the weekend or a few hours after work. Once you see that you have enough work, then move full time. With a few years' experience under your belt, you could soon be charging upwards of $150 per hour or more.

Planning your pricing and services is a fun aspect of the SEO freelance business because you have the space to be creative and set your standards — it's your SEO business, right?! It can also be one of the hardest parts of freelancing because it can feel personal.

Here's a look at a few strategies for how SEO freelancers set their rates and how much they make.

Planning Your Pricing
When planning your pricing, how you charge can be just as important as what you charge. Some SEO freelancers charge by the hour; others charge per project. Depending on what type of customers you want to work with, you might have to use one or more pricing models.

Here's a look at some of the most common pricing models in SEO:

Hourly: You set the price for each hour you work on a client's project. This pricing model can offer the best return on investment; however, many SEO clients won't accept an hourly contract unless they have a clear idea of the number of hours the work will take.
Project-based: You define a flat fee for a project and base it on an estimate of the amount of work and time required to complete it. Tasks outside the scope of work are charged separately.
Monthly retainer: You set up a flat, monthly fee for a predefined set of SEO tasks that are performed every month. Tasks outside the scope of work are charged separately. According to an Ahrefs​ survey, nearly 75 percent of SEOs charge a monthly retainer for some or all of their services.
Many SEO freelancers progress from hourly pricing to a monthly retainer once they've established a strong trust base with a client. Monthly retainers encourage long-term relationships because when your work on a project is done, you continue working together.

Setting Your Rates
When setting your freelancing rates, research the going rate for your level of service and SEO experience — major factors in pricing.

According to the Ahrefs survey, which asked about 350 SEO agencies, consultants, and freelancers how much they charge for SEO services, here's a breakdown of what SEO freelancers charge, on average:

Hourly: $68 per hour
Project-based: $1,530.85 per project
Monthly retainer: $1,364 per month
It shouldn't come as a shock that more experienced SEOs charge significantly more than less experienced SEOs. Those who've been in business for two or more years charge 39.4 percent more per hour, 102.41 percent more for monthly retainers, and 275 percent more for one-off projects than those who've been in business for fewer than two years.
Charging for Experience
As a novice freelancer, you can't quite compare your rates to an SEO consultant with 10+ years' experience. When setting your pricing, have a minimum acceptable price that you are willing to take in case clients negotiate. You may choose to accept this rate for a variety of reasons.

Keep in mind you can always raise your rates once you get busy and what you start off charging as an SEO freelancer may look very different one or two years into your business.

For more tips about starting a profitable SEO consulting practice, download my SEO Freelance Cheat Sheet.