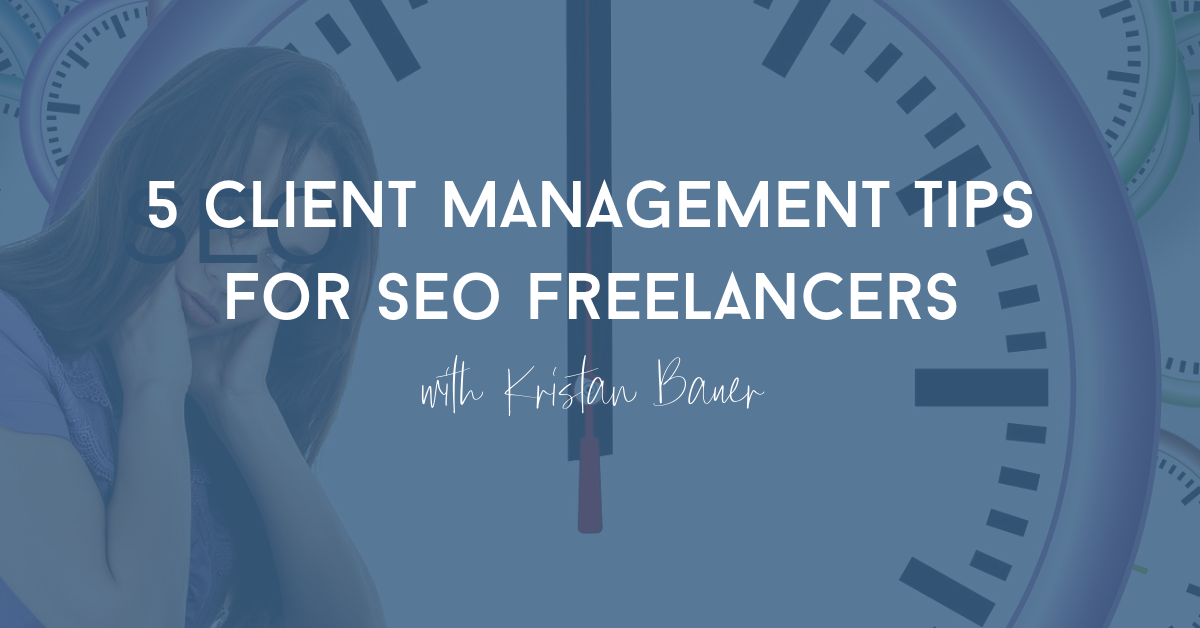 Getting your first clients is exciting. The key to a profitable SEO consulting practice is keeping them. That's where excelling in client management becomes so critical.
Over the years, I've found that clients will ride out tough traffic times with you as long as you are dependable, consistent, and proactive. If you can provide value (organic search growth), build the trust, and engage regularly with your SEO freelance clients (proactive communication), they will stick with you long term.
Maintaining positive client relations is a key component for any successful freelance business. Make sure your clients see SEO growth and that they trust you — that is the best way to keep them long term.
To ensure your new clients become happy clients, follow these five client management tips for SEO freelancers.
1. Use Project Management Tools
The key to keeping your clients is to do good SEO work. But as an SEO freelancer, you're also running your own business, which means you're in charge of schedules, deadlines, meetings, tasks, and more. Project management tools ensure that you stay organized and that your clients see you as a dependable professional.

Don't hesitate to use more than one tool. Maybe you use Slack for messaging your clients, Google Calendar for scheduling meetings with clients, Google Docs for working on your SEO projects, and Asana to manage your workflow.

2. Develop an Onboarding Process
Client onboarding is a process that allows you to acquire the necessary knowledge, understanding, and tools to be a good SEO freelancer. It also gives your client a chance to get to know the value of your services and your project delivery process. When onboarding is successful, you and your client have a thorough understanding of expectations and goals.

Here's a look at my typical process when onboarding new SEO clients:

Get the contract signed, and send a copy to the client
Send welcome email
Schedule kickoff meeting
Send new client questionnaire
Request access to Google Analytics and Google Search Console
Onboard to invoicing software
Onboard to monthly reporting platform
Create an initial project plan
Set initial expectations with growth timelines and projects
3. Send a New Client Questionnaire
Part of the onboarding process is developing an understanding of your client's core services or products, known challenges, company history, and SEO goals.
There are a number of ways you can gather this information: forms, phone calls, emails, meetings. Moz developed a Local SEO Client Discovery Questionnaire that you can tailor to your individual clients to help you understand what they do and don't have in place so you can develop a scope of work.

Consider creating processes that you can scale, such as collecting and documenting your client's answers in Google Forms. Emphasize that the more information your client shares, the more likely you'll stay aligned throughout.

4. Have a Kickoff Meeting
Once you've received your client's completed questionnaire and have had time to process the responses, schedule a kickoff meeting. Whether in-person, on the phone, or over video conference, the kickoff meeting represents the formal start of your working relationship.

Use the kickoff meeting to dig deeper into what the client has already told you, ask for clarification if necessary, explain your SEO methods, and get on the same page about the projects and goals you'll be working on together.
Here's the basic agenda I typically follow for any SEO kickoff meeting:
Team introductions between you and the broader client team
Review initial SEO projects, timeline, and priorities
Discuss historical SEO initiatives and goals
Review target keywords and key competitors
Establish initial workflow and communication processes
In addition to demonstrating your understanding of the job at hand, build as much rapport with the client as you can during this first meeting.

5. Schedule Checkup Calls
Send a quick email to the client to thank them for their time and dedication so far and to notify them that work has officially begun on the project. One week into the project have a follow-up with your client to address any concerns they might have as well as give them routine updates. This assures the client that the project is progressing as planned and reassures them that they have made the right choice in hiring you.

Also plan on doing a 30-day checkup call to gather feedback on the engagement and relationship so far. Use this call as an opportunity to strengthen your relationship and fix any issues. Be ready to recap all activity and production during the first 30 days, and leave the call with the client understanding how much you value your relationship and their business.

If your new SEO client is an ongoing retainer, then you'll likely want to schedule more frequent meetings to stay connected. For our SEO retainer clients, we have either weekly or bi-weekly meetings to stay synced on projects.
Other basic practices to maintain with clients to keep them happy and a positive working relationship include:

Communicating proactively (with good and bad things)
Being polite and respectful in meetings
Establishing a friendly tone throughout all client communication (phone, email, and in person)
Being timely in your communication, project deliverables, and punctual to meetings
Making things easy for the client in your communication, deliverables, and general workflow
Maintaining positive client relations is a key component for any successful freelance business. For more tips about starting a profitable SEO consulting practice, download my SEO Freelance Cheat Sheet.