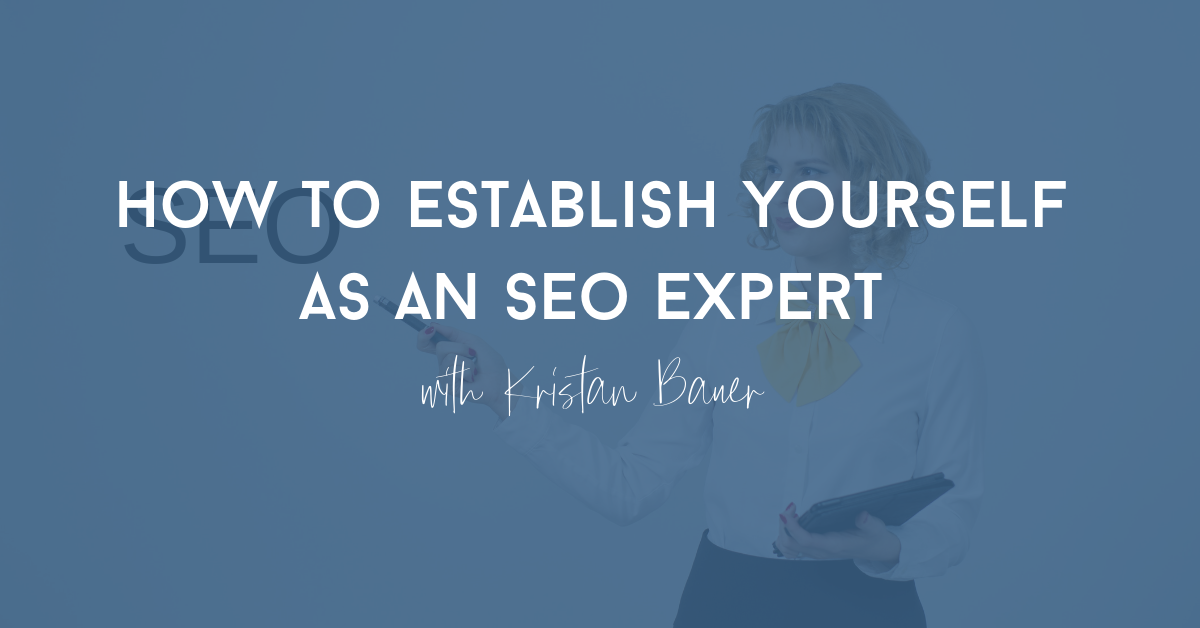 5 Ways To Build Your SEO Credibility
Think you need to accumulate years of experience before launching your SEO freelance business? Think again.
Of course, you need to know enough SEO to make a difference for your clients and be confident in your skills. This is really important. However, you can also supplement your experience with previous related work in marketing, web development, public relations, copywriting, or branding.
Do you need years of SEO experience to build a freelance business? No, but you do need to establish your SEO credibility. Here's how to establish yourself as an SEO expert in your field.
There are also a variety of other ways that you can establish your SEO credibility before you make the jump to full-time freelance. Here's a look at some of my tried and true strategies to position yourself as an SEO expert and start marketing yourself as a freelancer.
Writing
Once you have your business website up and running, start writing about SEO. Write blog posts about how you can use keywords and HTML tags to increase search engine traffic a website and how link building is a critical component of off-page optimization. Not only will this build your credibility and position you as an industry thought leader, but it will also guarantee that you stay on top of the industry's best practices.
Consider starting your own email newsletter once you build up a bank of content. You can also post on forums to establish yourself as an expert in the field. If you publish regularly — and once you start growing a reputation — you can even begin reaching out to industry publications to become a contributing author.
Speaking & Networking
About three to six months before you quit your 9 to 5, start attending Meetups and other networking events in your area. These local mixers are always looking for speakers, and you can build your reputation as a local SEO expert by offering yourself as a knowledgeable speaker on the topic.
Attending — and eventually speaking at conferences — can also be a great way to network with industry leaders, get feedback from your audience, and brand yourself as an industry expert.
Getting Testimonials
You know testimonials and local reviews can boost your clients' SEO, so make sure you have a few testimonials on your website and LinkedIn pages, too. If you don't have any testimonials yet, don't be afraid to ask colleagues or existing clients. It's even OK to provide examples or ask specifics for them to highlight.
As you're establishing yourself as an SEO expert, collecting a few testimonials from past clients will help increase trust, boost credibility, and distinguish your business from competitors.
Publishing Case Studies
One of the best ways to highlight your SEO knowledge, problem-solving abilities, experiences — and the results you can get your clients — is through case studies. Case studies can vary greatly in length and focus, but generally, you want to tell the story of how you helped a client overcome their challenges and achieve their goals.
When writing a case study, include the type of site or client, why the client sought your services or what problem you were solving, what the client was trying to achieve, the specific SEO tactics you took to reach their goal, and the outcome in specific SEO metrics. Graphs and charts are excellent ways to visually demonstrate your ability to deliver on what your service promises.
Confidence & Professionalism
No matter which of these strategies you use, professionalism is key. Be polite. Speak and carry yourself with confidence. Be punctual. Professionalism is one of the most important things you can do to aid in your SEO credibility when talking with clients.
For more tips about starting a profitable SEO consulting practice, download my SEO Freelance Cheat Sheet.