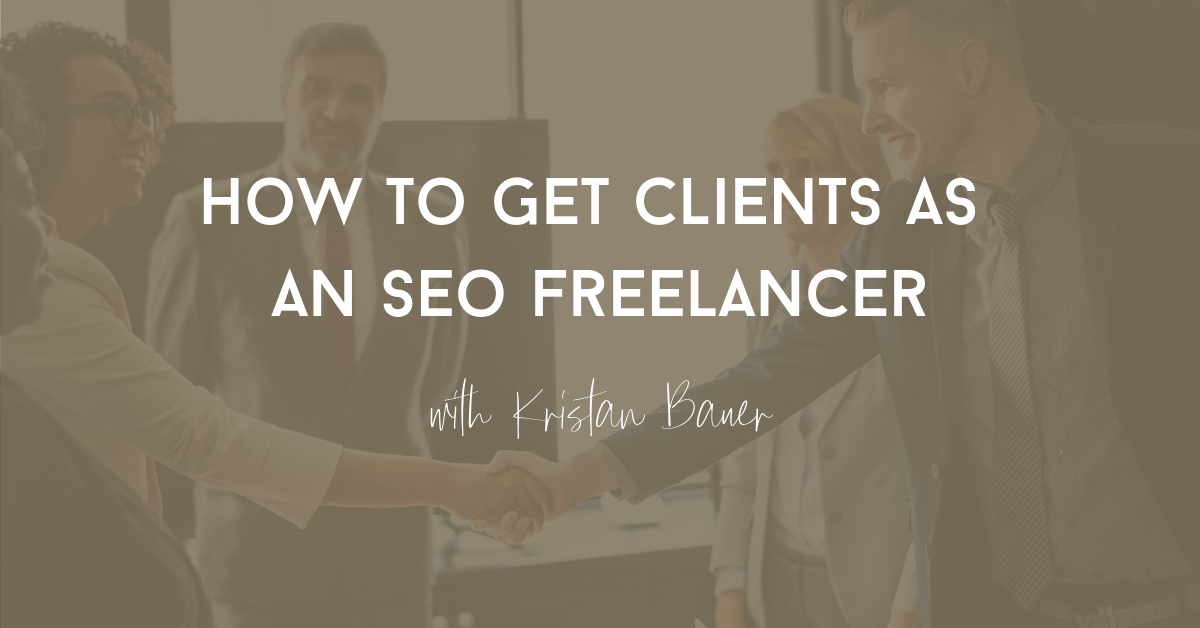 5 Ways to Get SEO Freelance Clients
Any freelancer knows that their livelihood is dependent on a steady stream of clients. This is no different for an SEO freelance or consulting business. If you're an SEO freelancer, there some specific areas to get new SEO freelance clients.
Getting SEO freelance clients don't have to depend solely on your network, years in SEO or your even specialty. It depends on how you leverage your network, where you're looking for jobs and how proactive you are.
As an SEO consultant and freelancer myself, the below are all ways where I've successfully found and secured SEO freelance clients – this even includes contracts ranging in five- to six-figures in size.
Here are 5 ways to get SEO freelance clients that anyone can do.
1. Leverage Your Network
Leveraging your network is a must-do for any SEO freelancer. If you have experience in SEO, then you likely know people in specific industries or brands, which can help with client referrals. Your network can help connect you when new SEO freelancing opportunities arise.

Telling people in your network you're freelancing will keep you top of mind when they hear of SEO consulting and freelancing opportunities.
2. Use Freelancing Job Sites
Using freelancing job sites is a no-brainer for getting SEO freelance clients. Anyone can create a profile and start bidding on freelance projects.

Here are a some of the top freelancing job sites where SEO freelancers can find jobs:

Upwork
Freelancer
Fiverr
Credo
Guru
PeoplePerHour
Source: https://www.guru.com/m/hire/freelancers/seo-experts/
3. Apply for Contract Positions
Applying for contract SEO positions is another great way freelancers can find temporary roles. This includes searching for remote, contract SEO positions on major job portals, such as LinkedIn, Indeed or Craigslist.

Most likely contract positions will be part-time, remote or flexible and can make great options for SEO freelancers just starting out.
4. Social Media or Local Advertising
While advertising requires an upfront investment, it can help get you in front of specific audiences and brands for new freelancing or consulting clients.

Using social media advertising, such as Facebook or LinkedIn Ads, can help get your SEO freelancing business in front of specific audiences. Also, if you're interested in working with local businesses, advertising in local media outlets can help get freelancers exposure with the local community.
Source: https://business.linkedin.com/marketing-solutions/ads
5. Industry Thought-Leadership
While not always a direct channel for client acquisition, thought-leadership throughout the SEO industry can help expose SEO freelancers to new brands and audiences. This includes thought-leadership such as writing, speaking or networking in the SEO industry.

Oftentimes, thought-leadership can help position freelancers as an expert in SEO and is attractive to prospective clients.

Have you tried any of these SEO freelance client-getting strategies? Or have you used any other strategies to find SEO freelancer clients?
Interested in starting your own SEO freelance business? Check out my SEO Freelancing Cheat Sheet to get started today.