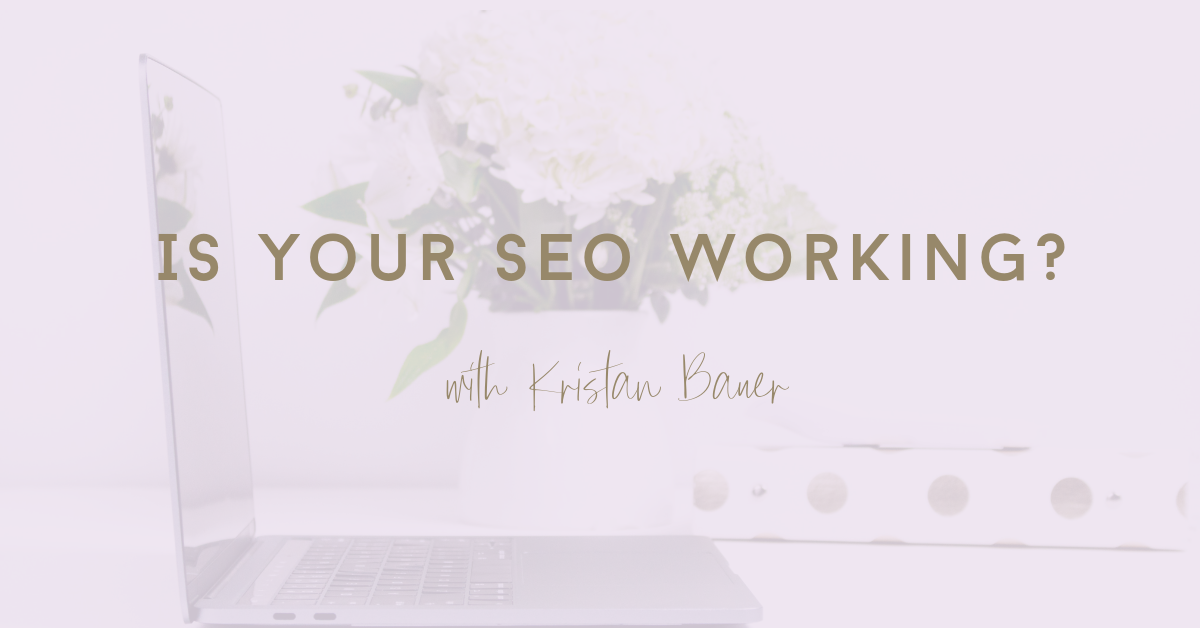 Evaluating if your SEO is working should be dependent on your SEO goals and progress. For example, do you want to improve your SEO to grow organic traffic and audience? Or do you want to work on your SEO to drive more business leads and revenue? What projects have you actually implemented to support your SEO strategy? These are all things you should be asking first before evaluating whether or not your SEO is working.
I've had clients ask why their SEO isn't growing faster before but when we actually look at what they've implemented, it's pretty minimal. SEO is only as good as what you do. Growth in SEO is typically a direct reflection of what has actually been executed upon. The more SEO projects (high-value or quality SEO projects) you implement, the likelihood of growing your SEO is better.
That being said, if you are proactive about your SEO strategy, there are specific metrics that any website can evaluate to understand if their SEO is working.
Here are four specific metrics to evaluate to know if your SEO is working or not.
1. Measuring organic traffic growth
Measuring organic traffic growth is ultimately the key metric for search engine optimization (SEO). SEO tactics seek to influence organic search, so measuring the growth of organic search traffic makes sense.
Due to any seasonal trending, looking at year-over-year growth is the best metric to follow when evaluating organic search traffic. Different industries or niches might be on annual traffic cycles, such as e-commerce or real estate industries that have very specific seasonal trends.
However, month-over-month or quarter-over-quarter traffic growth can also be evaluated and monitored based on your site.
Here's an example of my e-commerce clients who made strategic technical SEO improvements and invested in unique content creation. You can see the significant year-over-year growth in organic search traffic through Google Analytics.

Source: Google Analytics
2. Measuring growth in conversions
Whether your conversion value is contacts, leads or revenue, monitoring your growth in conversions from organic traffic is another key SEO metric.
No matter your conversation value or metric, SEO strategy can support overall conversion growth and contribute to the bottom line of your business.
Similarly to traffic trends, measuring conversion goals year-over-year is more accurate for brands with seasonal trends. However, monitoring the month-over-month or quarter-over-quarter metrics can be helpful.
In order to evaluate conversion metrics, you'll need to set up your goal values in Google Analytics specifically for your website.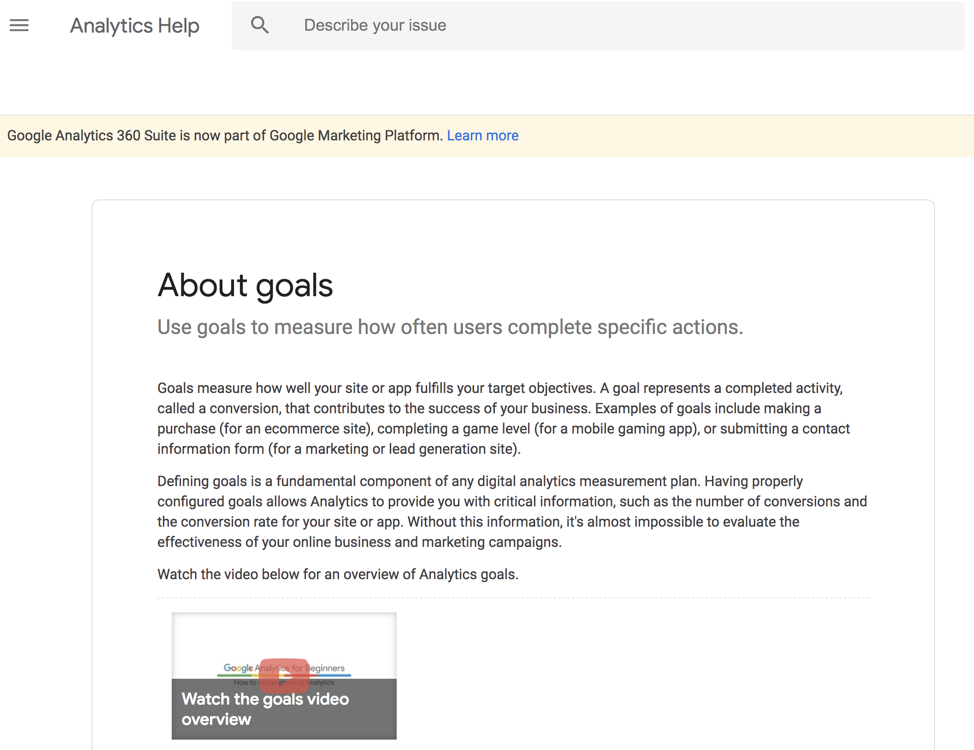 Source: Google Analytics help
3. Tracking growth in keyword ranking
Since organic search starts with someone typing a search term into search engines, keyword targeting, and tracking is important for overall SEO growth.
This includes evaluating the number of keywords a site is ranking for as well as a specific keyword ranking position (obviously, the higher the better!).
Here's another e-commerce website where we started a new resource hub that focused on relevant content creation for their audience. You can see the overall growth in ranking keywords as well as growth in top ranking positions.

Source: SEMrush
We planned a solid keyword strategy behind every article or blog post and started ranking for high-value head terms and long-tail keyword variations.
4. Tracking growth in domain authority
Growing a site's domain authority is a common SEO goal and metric to evaluate.
Domain authority is typically influenced by the quality and quantity of external links (or backlinks) pointing to a website.
Depending on your SEO strategy, growing domain authority might include actions such as public relations, guest posting, and influencer outreach.
Here are some screenshots of one of my clients whose domain authority increased from 31 to 57 in one year of proactive link building. You can see the growth in linking domains and domain authority.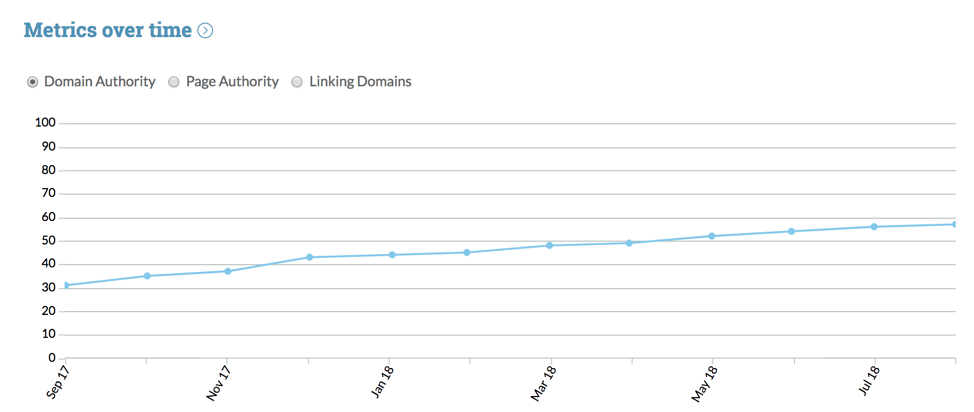 Source: Moz link explorer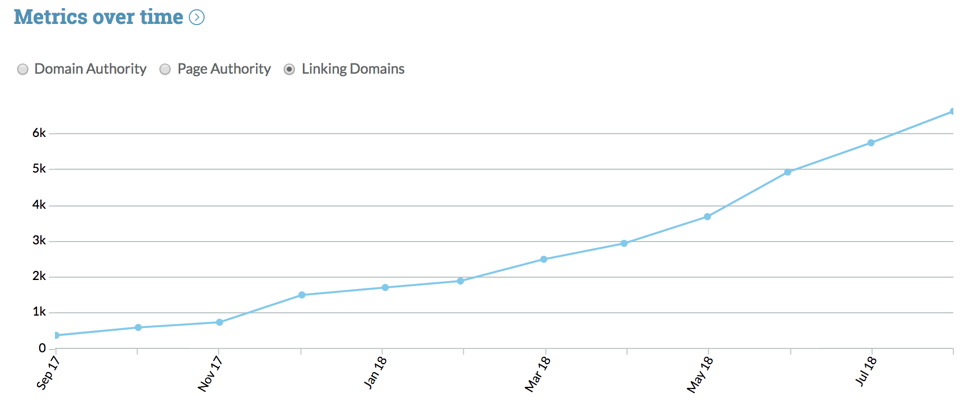 Conclusion
SEO is a long-term play so most commonly it can take time to see results. Measuring whether or not your SEO is improving doesn't have to be challenging as long as you follow some simple steps and choose your metrics.
Understanding if your SEO is improving depends on your SEO strategy and what strategy you've actually turned into action.
Here are four common metrics to follow to see if your SEO is improving:
Measuring organic traffic growth

Measuring growth in conversions

Tracking growth in keyword ranking

Tracking growth in domain authority
It's important to take benchmarks of your website metrics before and after your SEO projects as well as monitor ongoing progress to measure SEO success.
What other metrics have you found illustrate SEO success? Anything else that's specific to your business or website that shows SEO progress?